The Tragedy in The Phillipines: Typhoon Haiyan
The Phillipines is a country that is not stranger to typhoons, but the Haiyan typhoon is one of the worst in the country's history. In the wake of the typhoon that hit on Friday, November 8th, the Red Cross estimated approximately 10,000 people have been killed and thousands have been injured.
The biggest problem, as of now, is getting food and water to those in need. After the typhoon the majority of the buildings in cities have been washed away, so little food is left, and with the amount of people in need, it just isn't coming fast enough. To add to the fact, with so much debris covering streets and walkways, as well as people being displaced and stranded, it is difficult to get aid to the people who need it.
"…the devastation here is overwhelming and there's little sign so far that the government is managing to get aid out to the many in need," says BBC News. "Those who have nothing are looking for anything they can find. And unless more relief comes quickly, the little food there is will run out soon."
The storm brought sustained winds 147 mph with gusts of 170 mph, causing the majority of the buildings across the country to be destroyed. Telephone poles and wires are down in most areas, and debris from homes litters the streets. Survivors wander about, trying to find loved ones who they lost track of in the storm, and maybe even remains of their homes.
Dead bodies litter the streets in Tacloban and the surrounding cities as people scour the bodies for their family members. The devastation is so widespread it's difficult to even know where to begin for many officials. The people, though, know exactly what they need: water, food, medical attention, and  for some, to get out. The typhoon not only took away homes, but also the grocery stores, and the few that remain have been ransacked by citizens desperate for food, and the water in The Philipines isn't guaranteed to be clean, but the people have nothing else to drink.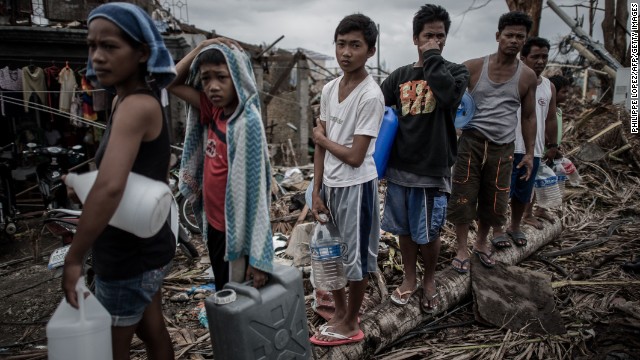 Around the world, many people are struggling to know what to do. Organizations like The Philippine Red Cross, Doctors Without Borders, Operation USA, and the World Food Programe are trying to help as much as possibly, but need our help. Your contribution, which could be as little a dollar, could save many lives and help these people make it through a couple more days as they attempt to pick up the pieces of this devastating typhoon, and try to put their lives back together.
To find more organizations helping the Philippino citizens, go to The Huffington Post's resource.